Conceptual commercial for Tesla. The goal is to promote autopilot and electric performance (tech, eco and quickness values) mixing their product with humour (antagonism to smartphones with somewhat useless functions).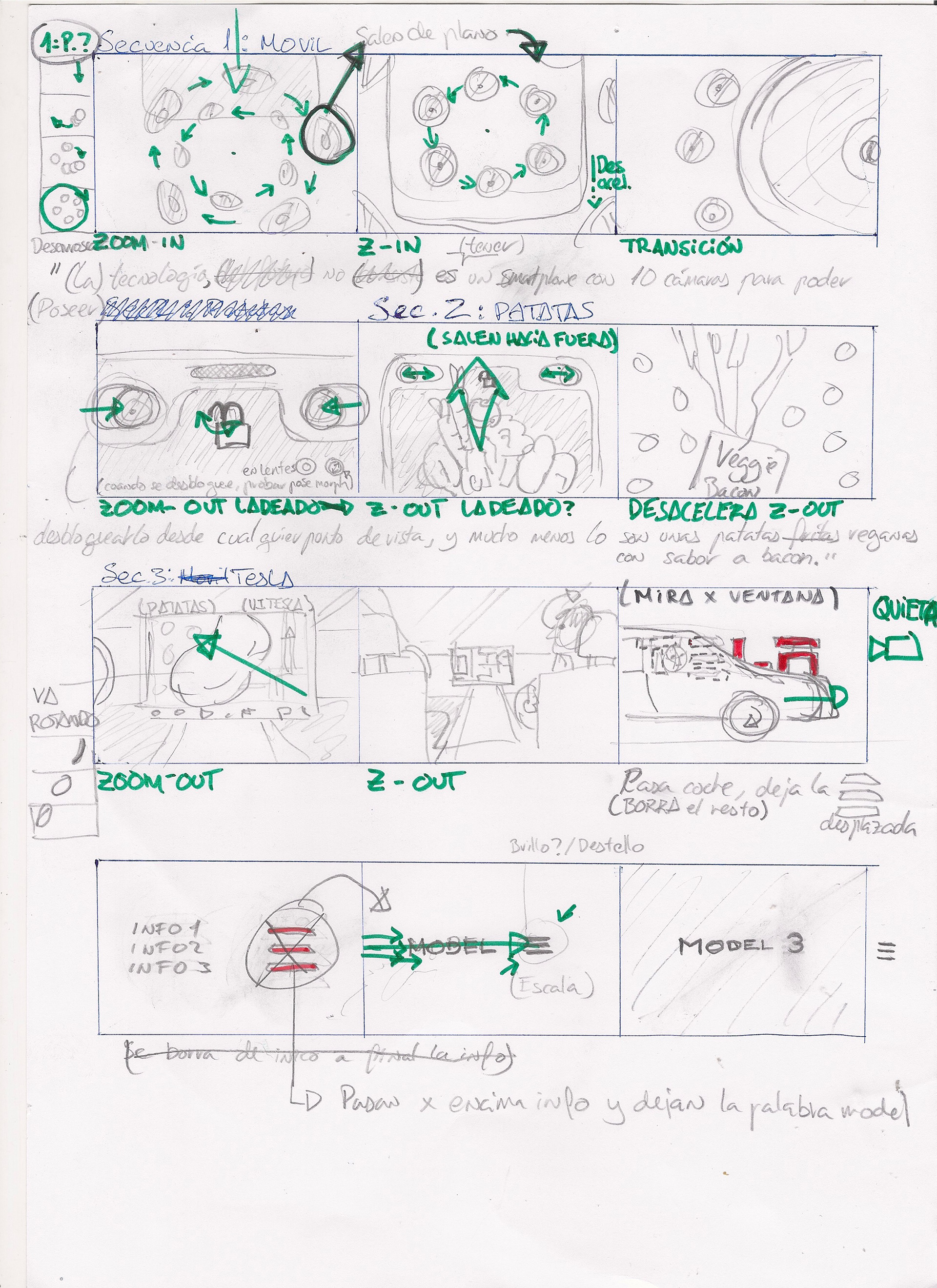 First storyboards made for Tesla Model 3 add.
Proposal commercial for DPD, aligning the variety of vehicles with the materials that usually transport the objects, cardboards.
Concept proposal for Nike Air shoe where I worked on the textured and animation focused on a young and elitist target public.
Conceptual modelling and video promotion for a new iPhone. The main idea was to recover the iconic central button, adding the all-screen while trying to empower the use of this button again to align it with the Apple brand history of devices.
A proposal made for the online music catalogue Deezer as an exercise of integration of videos into other videos. Projecting these animations made in their last campaign on places around the world to empower their slogan, listen to your music, limitless, wherever you want, whenever you want
Promotional concept video for Pepsi. The video was planned to be promoted in hot seasons (such as summer) when the consumers look for fresh and cold to beat the heat.
A Project developed to promote a keyboard made by Logitech, a tech company whose brand has just been redesigned to attract the younger public with simpler and more direct communications. In this line, I made a synesthesia animation aligned with the music showing the design and functionalities of the product in two phases, animatics and final result.
Proposal commercial for Dolce & Gabanna perfume "Dolce" (rose fragrance). 
The targeted public is a medium-high age woman, the approach is to attract them by extrapolating her life to the majestic growing of a rosebush and to the delicate and sophisticated essence of its flower, the rose.
Video Mapping video ready to use, the idea was to play with different 2D and 3D elements with unifying colour usage.
An inspirational video where a science fiction user interface was built taking the references of Marvel films and Minority report.